You want to run Facebook ads to grow your small business as part of your digital marketing plan. You have identified your ideal client(s). You have set SMART (Specific Measurable Achievable Realistic Targeted) marketing goals. Your organic social media marketing has been showing success. It's time to launch your first Facebook ad campaign! You open up ads manager, click new Facebook campaign and then what…
Facebook campaign objectives can be set for various goals from lead generation to app downloads. Learning to pick the right campaign objective is the first step in setting up your Facebook ads. Choose a business objective and create an ad campaign to help reach your goals from building brand awareness to growing your online sales through social media marketing.
WHICH FACEBOOK AD OBJECTIVE SHOULD YOU USE?
Awareness
Good for brand awareness, reach, video views and website traffic. This objective will help create awareness of your small business by reaching the largest number of people that are most likely to remember seeing your ad.
It helps create familiarity with your branding, but it's still up to you to create ads people will find memorable with scroll stopping images and and text they can relate to.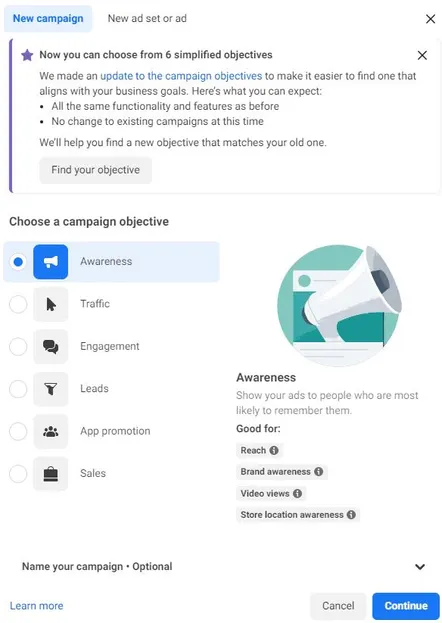 TRAFFIC
Facebook ads with this campaign objective kind of speak for themselves. If you are looking to increase traffic to a specific online destination, like your landing page, website, or Facebook or Instagram shop, website or app, especially if you have a feature offer you are promoting.
Traffic ad campaigns are also a good choice for testing from your messaging and the images you use not only in your marketing campaigns, but your online presence as a whole.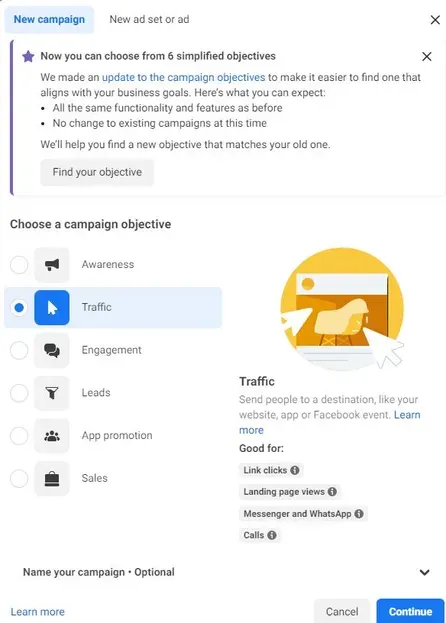 ENGAGEMENT
Are you looking for people more likely to engage with your business online, send a message or take desired actions on your ad? Facebook analytics are good – really good. They know which people are more likely to engage or take the desired actions you have set for your marketing objective. Selecting Engagement in the Facebook campaign objectives will put your ads in front of those that will take action like "Wouldn't life be easier if…", "If you could…" "DM me if you want…"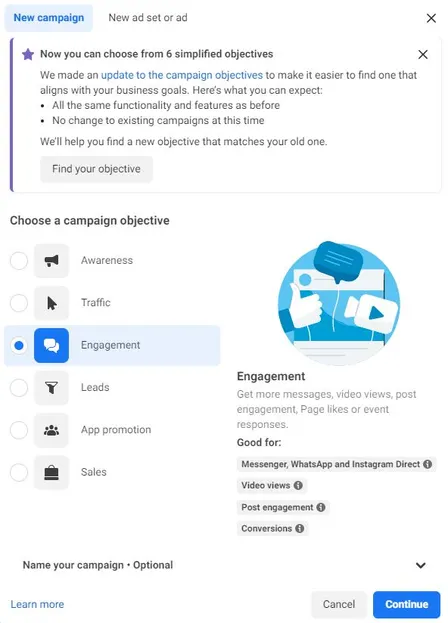 LEADS
All businesses need leads. Whether you go for the direct sale or build a relationship by nurturing your leads before trying to sell your offer, all businesses need leads. Using a Lead ad campaign helps with instant forms, messenger and call CTAs as well as conversions. Facebook analytics will once again, help you get your ads in front of the people that will help you meet your marketing objectives.
Facebook lead generation forms make opt-ins even easier as you don't need a landing page. Wait, it gets even better, because they don't leave the Facebook platform, you don't lose the data of iOS users.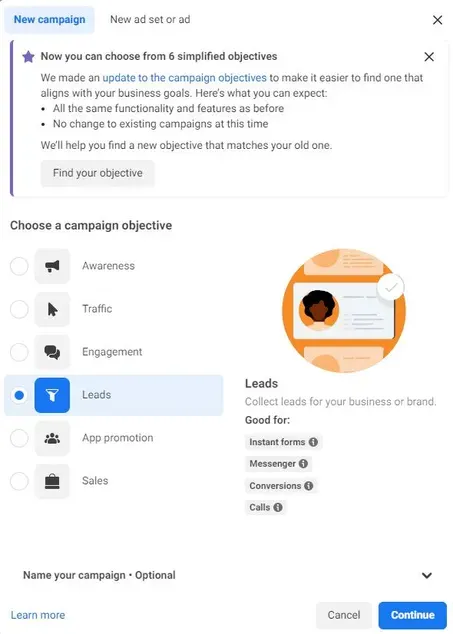 APP PROMOTION
Is the purpose of your Facebook ad to get people Get people on mobile devices to install or take a specific action within your app. For example, if you want potential customers to make a purchase through your app or try a new app feature, you can create an app promotion campaign.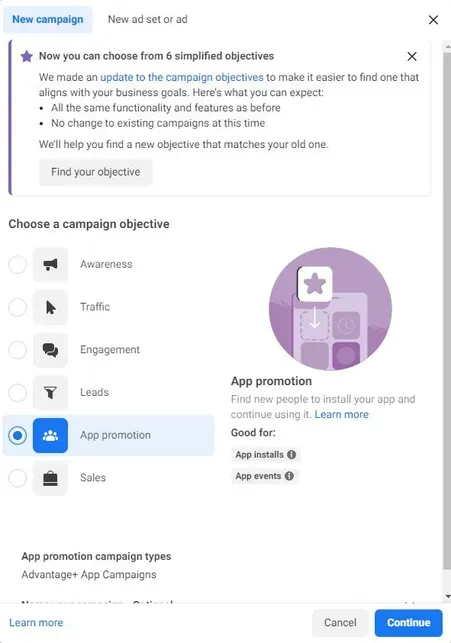 SALES
Campaign strategies undoubtedly include sales as part of their marketing objectives, after all that is keeps a business breathing. Selecting Sales as your campaign goal during your campaign creation will help Facebook find people most likely to purchase your offer.
Not only can you optimize your campaign for actual sales, but you can optimize for getting people to just add to cart. Objectives planning like this can help you work out friction points throughout the buyers journey, resolve their pain points and ultimately improve your conversion rates.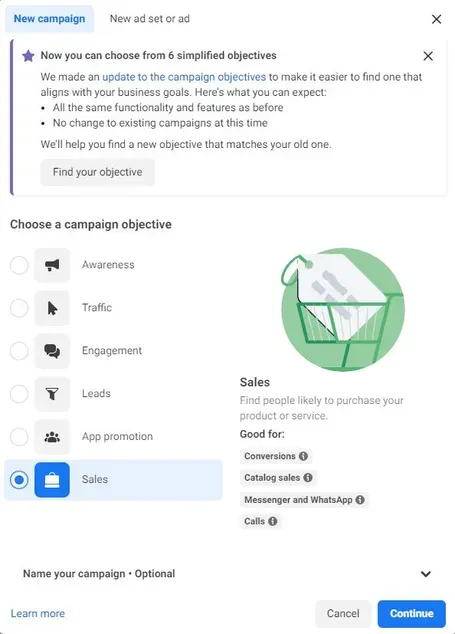 All in all, using Facebook Ads to reach your business objective is a great way to connect with potential customers and convert them into paying customers. Setting the right campaign goal at the campaign creation stage is vital to getting your ads in front of the right people and generating the most ROI. You can set different goals for different stages of the buyer's journey.
You can set a goal for reaching people who have engaged with your page or been interested in your product/service. Or you could target people who have already made a purchase or are about to make a purchase. Whatever your business objective, using the right campaign objectives when you create your campaign will give you the results you need.
Do you use Facebook advertising as part of your online presence?
What kind of results have you had?
If you need help with your Facebook ads or even if you just want to make sure you are on the right track with your digital marketing strategy, reach out!
Let's chat about where you are and where you want to be!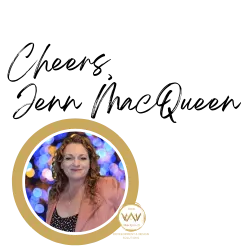 Disclaimer: Some of the links provided may be affiliate links. I may earn a small commission if you click one of these links and sign up. However – all the links I share I use or have used, or truly believe there is value in the offer, that will help you grow your business.